Evaluating the important factors
Making the decision on whether to rent or buy heavy equipment depends on your unique situation. Determining what equipment will best suit your needs and budget is an important step in the decision-making process.
Depending on the size of your jobs, you may own some core equipment that you own that you are capable of maintaining and servicing while renting other equipment for unique or specialized jobs. Regardless of what option you choose, be sure to consider all factors to make an informed decision on what best meets your company's needs.
Many construction industry experts say it's a general rule to buy equipment if you need it for more than 65 percent of your jobs. Take a look at some of the advantages of owning versus renting the equipment you need to get the job done right, and on time.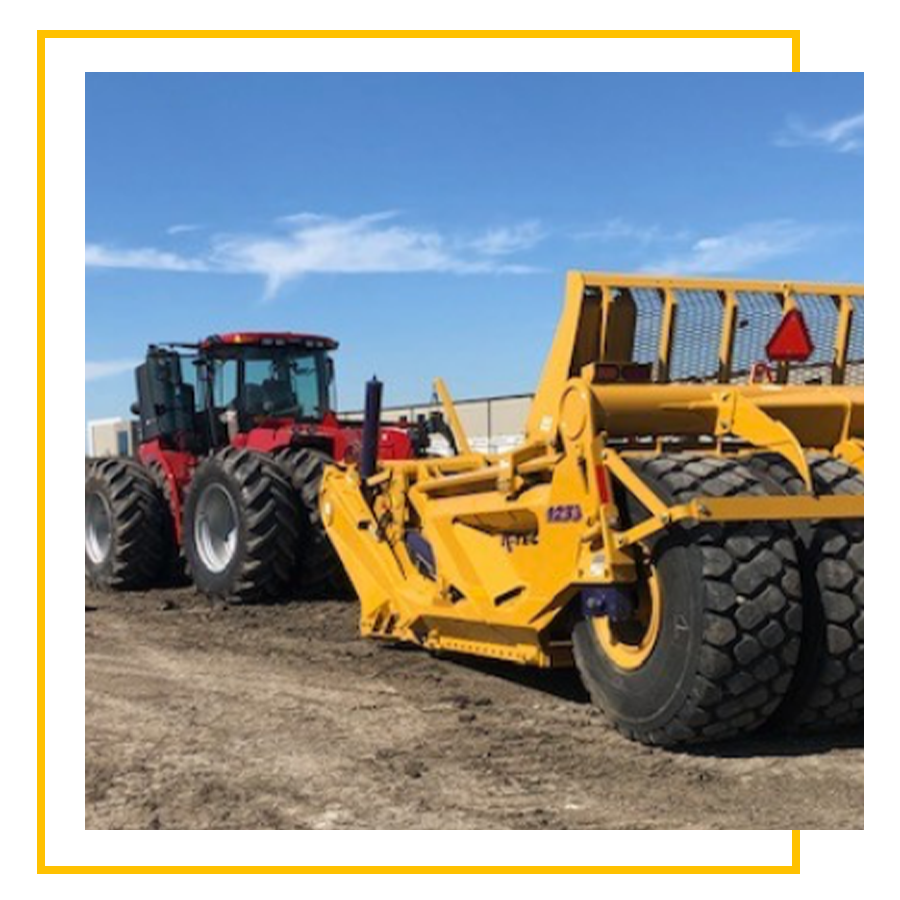 THE ADVANTAGES OF OWNING HEAVY DUTY EQUIPMENT
From small power washers to rough terrain cranes, companies in the business of selling new and used equipment will normally have the option to rent or buy. The best decision depends on your situation. Take into account how often you will need the equipment and look at the advantages and disadvantages of owning it yourself. Having the exact piece of equipment at your disposal whenever you need it has its own advantages, but there is much to consider when you purchase heavy equipment for your business.
#1 IT CAN SAVE YOU MONEY
Tired of paying rental fees for a piece of equipment you use on a regular basis? It may make sense to own it. Plus, buying heavy equipment opens the doors for lower interest rates and tax incentives while building your assets and inventory.
Consider the costs of renting every time you use a lift for your construction jobs or a tractor for your property. If your rental fees start to stack up, it could benefit you – and your bottom line – to buy the equipment versus paying the rental fees on a regular basis. You could end up paying more in rental fees than you would buying the equipment outright. If you find yourself needing a piece of equipment for more than 65% of your jobs, but you're still renting, you may be inadvertently putting yourself at a disadvantage in the face of so much competition. Even the smallest expense can cost you the next project. Pre-owned or used equipment is an affordable option if you do not want to buy new. Check out ASCO's inventory of pre-owned equipment.
#2 GAIN A COMPETITIVE EDGE
The high-paying jobs go to the best company with the lowest bid. The lower you can keep your costs, the more you are able to offer your customers competitive prices. By making smart business decisions when it comes to renting or purchasing equipment, you're one step closer to getting the jobs you've been hoping to win. Browse ASCO's new inventory by brand or type.
#3 TAX BENEFITS
The IRS allows you to write off equipment expenses if the item was used in a professional capacity. Under the new tax law, first-year bonus depreciation, increased from 50 percent to 100 percent of its cost, was expanded to now include used equipment bought after September 27, 2017. In other words, it allows your business can potentially write off the entire purchase price of qualifying equipment, instead of just half.
#4 BUILD UP YOUR ASSETS
This is simple. The more you own, the more assets you have. It's necessary to invest and add profit potential to your company by purchasing and owning equipment. The more assets your company, or farm has, the more value and borrowing power you will have. Shop ASCO's new inventory here.
THE ADVANTAGE OF RENTING HEAVY DUTY EQUIPMENT
Renting tools and equipment has its own benefits. If you're having trouble deciding, think about how often you would need that certain product. Rarely need a lift for your jobs? It probably wouldn't be in you or your company's best interest to purchase it. Don't have access to the proper storage? Storing a large machine comes with its own costs. You may occasionally have to rent equipment to perform certain tasks you don't normally do, or during peak construction time.
ASCO offers flexible options with daily, weekly, and monthly rates for rental equipment. While the cost of renting equipment is generally higher than a loan payment, the advantages and convenience of renting are plenty.
#1 NO LONG-TERM COMMITMENT
Only keep the equipment as long as you need it. When you own a piece of equipment, the maintenance and storage is on your shoulders. However, renting equipment gives you the freedom to use the equipment only when you need it, and return it after you're through. Browse our available rental fleet here.
#2 SMALLER UPFRONT EXPENSES
Rental expenses are considered business expenses when it comes to tax time. You can often deduct rental expenses on a yearly basis. Renting heavy equipment is also beneficial when you don't have enough money to invest upfront, or carry the required insurance associated with your piece of equipment.
#3 SAVE PRECIOUS TIME
When you find a tool and construction equipment rental company you trust, renting and returning equipment should be easy. Choosing the right company means you don't have to call around and get the best prices or the highest quality equipment. You can also take on more jobs knowing you have virtually any piece of equipment at your disposal. Most rental companies will deliver the equipment to your job site and pick it up when you are done, freeing up more time for you to get your work done, instead of loading and unloading heavy equipment. You can get a jump by filling out ASCO's credit application here.
#4 CONSISTENTLY RELIABLE EQUIPMENT
Equipment breaks down, and some require highly technical service. If you aren't familiar with the equipment or have trouble accessing quality parts quickly, it could take a while to repair, costing you both time and money. When you don't have the equipment you need, your customers could go elsewhere. Renting equipment affords you the ability to estimate the job accurately, because you'll have the latest equipment maintained by the rental company.
#5 NO MAINTENANCE OR STORAGE
Not everyone has access to a large storage facility, especially if you're just starting out. If your spouse isn't too keen on the idea of parking in the driveway so you can store your heavy equipment, it's probably best to choose the rental option. Plus, you won't have the responsibility of upkeep and maintenance on your shoulders.
HERE'S WHERE ASCO COMES IN CLUTCH
We give you more options. Because we have a large inventory of new, pre-owned, and rental equipment in our 23 locations, we can give you options to try before you buy. Our extensive parts inventory and experienced technical staff means we'll be here to support you long after the deal is done.
THE OPTION TO TRY
If while renting any ASCO rental unit, you decide you'd like to purchase it, ASCO will apply 60% of your paid current continuous rental on the subject machine to its sales price. If you need to return the unit within 90 days after purchase, for any reason, we'll refund your purchase price less the full rental rate for the period since purchase and the service necessary to return the unit to rent-ready condition.
RENT FOR A WHILE
A young rental fleet ensures minimal downtime due to maintenance and allows operators to get the job done without frustrating interruptions. We rent all types of heavy, contractor and construction equipment – from small power washers to loader equipment to rough terrain cranes. ASCO's Uptime Guarantee ensures our rental equipment is clean, late model, and well maintained. If our rental unit breaks down, we guarantee dispatch within 2 hours of your call. If we cannot fix the unit quickly, we will exchange it. We know how important your time is, so we'll go to great lengths to ensure we're supporting you.
THE PARTS & SERVICE YOU NEED
Already own equipment? We also have a full staff of experts, service technicians, as well as over $21 million in stocked parts inventory. ASCO's heavy equipment service departments in Texas and New Mexico are committed to increasing your productivity by maximizing up-time for your new or used construction equipment. We have over 200 factory-trained certified technicians providing you with 24/7 service and are equipped with over 140 field service trucks with the latest repair and diagnostic tools.
As you can see, there are advantages to both buying and renting heavy-duty equipment. If you're still not sure what option is best for you, fill out the form below to contact ASCO and one of our equipment experts will be happy to assist you.
YES, I'D LIKE TO REQUEST FINANCING
Fill out the form to get in touch with one of our finance representatives.